To allow for a quick search and (re)encoding of ID cards, the new BadgeMaker 2.9 release introduces stand-alone encoding.
The new stand-alone encoding feature is available with the Encode Add-On or BadgeMaker Pro.

It allows the operator to present a new or unencoded card to an external card reader, do a quick search, select a record and encode the needed information directly to the card. Presenting a card that has previously been encoded will automatically select the corresponding record and gives the operator the option to update the card with the latest information or wipe the card if so desired.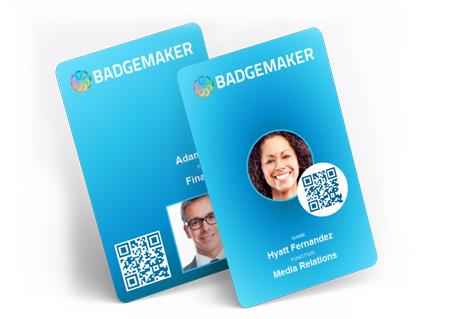 Next to the stand-alone encoding we made the Italian language available for BadgeMaker users and added the option to create multi-color radial and linear gradients in BadgeMaker Design.
To create a gradient background color, click on a specific element, for example a shape-element created for the background of the card design and go to the "Style" Tab in the Element properties. Select if you would like a linear or radial gradient, the angle of the gradient and add multiple colors with the "+" button.
With the 2.9 release also come the needed fixes and some nice improvements for the user interface. Adding card designs to your project shows a better preview for example.
Release Notes

New features
* Added support for stand-alone encoding.
* Added Italian translation.
* Added support for linear and radial gradient background colors in card designs.
* Added support for the Fargo DTC4500e
Improvements
* Improved error handling when creating a new project from an Excel or csv file.
* Improved project settings UI.
Fixes
* Fixed a problem with webcam capturing not working on certain systems.
* Fixed that constant values in triggers weren't validated.
* Fixed that HF readers in ZC printers were not resolved correctly, preventing encoding.
* Fixed that UHF encoding would be skipped for CCIs that only contained data for the EPC bank.
* Fixed that JPEG EXIF orientation meta-data was being ignored.
* Fixed a rare licensing check issue, where license keys were erroneously seen as disabled.
* Fixed a BCD encoding problem for UHF chip configurations.
* Fixed an error that occurred with certain Oracle databases (ORA-64219: invalid LOB locator encountered).
* Fixed that the installer didn't run the Elatec driver installer when enabled.
* Fixed several rare crashes based on telemetry crash reports.
* Fixed that Codabar patterns for B and C were swapped, and that the + pattern was incorrect.
* Fixed that date formats didn't have an effect in Mifare Classic CCIs.
* Fixed a rare IDP Solid print failure when printing colored text.